On 18 and 19 December, 2020, at the 8th National Congress of Vietnam Society of Anesthesiologists (VSA) in Hanoi, Vietmedical – Vietnam Society of Anesthesiologists officially introduced new technology applications from training activities to the practice, including SimCAT website – e-learning platform and eGM software – electronic anesthesia record software.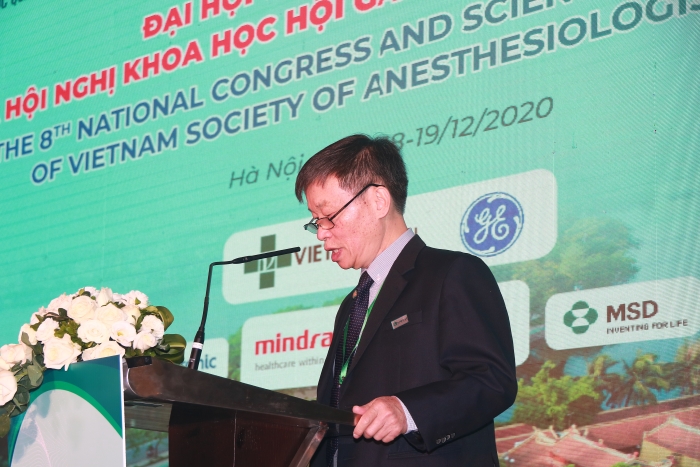 Assoc.Prof.Dr. Doctor Cong Quyet Thang – Chairman of the Vietnam National Administration of Education
At the event, Assoc. Prof. Dr Cong Quyet Thang reported the Society's activities in the past term, with a prominent mark of the establishment of SimCAT Center – Training Center of Vietnam Society of Anesthesiologists in January 2020 with the training facility code B79 issued by the Ministry of Health on 13 November 2020.
SimCAT center is responsible for implementing activities to enhance the training for cadres and developing, disseminating and standardizing procedures related to the practice of anesthesia and resuscitation. The training programs at SimCAT are studied, innovated and scientifically designed; flexibly combined between theory and practice, between standard value and real value.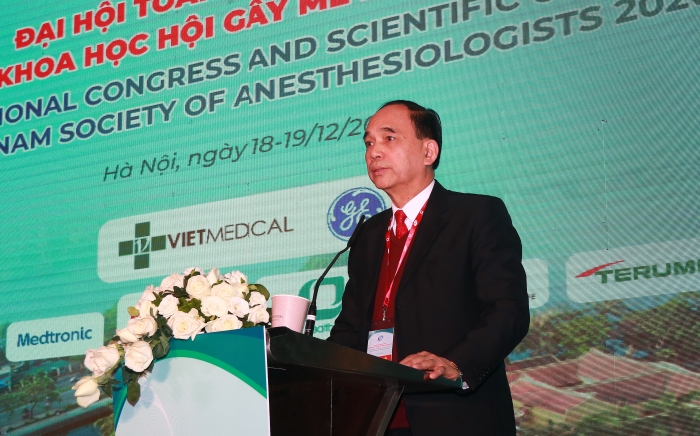 TS. Pham Van Tac – Vice Chairman of National Medical Council spoke at the Conference
Speaking at the Conference, TS. Pham Van Tac acknowledges and highly appreciates the contributions of the Anesthesia Society, as well as his companions, has brought many positive changes to the anesthesia industry, especially investment and development medical technology products and solutions, contributing to speeding up the digital transformation of the medical industry. The Vietnam Anesthesia Society has invested in modern models of international standards, helping students access new technology during their training.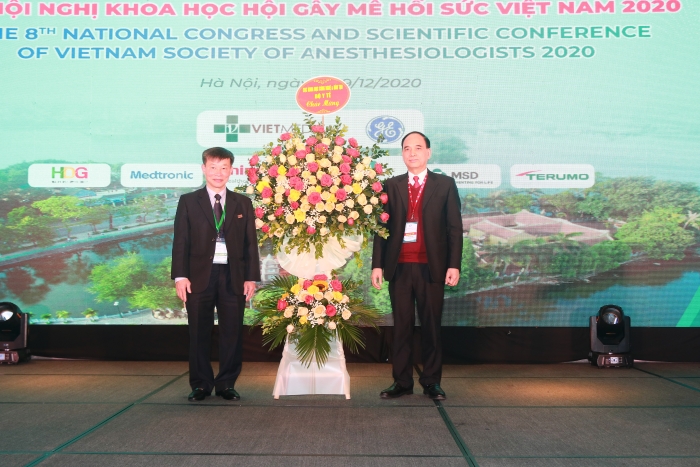 TS. Pham Van Tac presented flowers to congratulate the Anesthesia Conference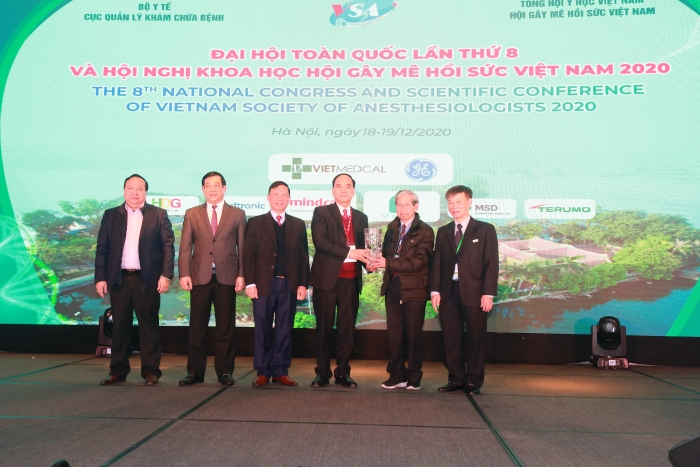 TS. Pham Van Tac, on behalf of the leaders, gave gifts to the Minister of Health, thanked Professor. Nguyen Thu, former Chairman of Vietnam Anesthesia Society
Also at the Conference TS. Pham Van Tac gave wishes to the Vietnam Anesthesia Society of Anesthesia for Solidarity – Construction and Development.
Vietnamese Anesthesia Resuscitation
Difficulty go ahead and back
Before after before love
Silhouette forever honored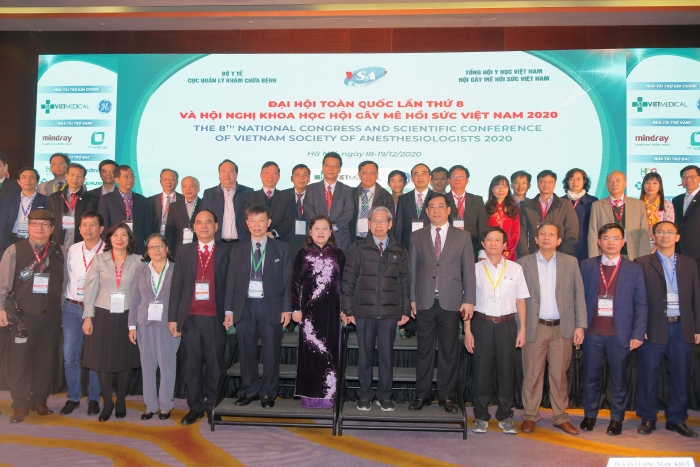 Leaders of the Ministry of Health take souvenir photos with members of Vietnam Anesthesia Society
SimCAT's distinct value is expressed in 3 forms of training, including: Simulation Training – training on simulation situations with priority for emergency situations; Training through clinical situations by coordinating with hospitals to give students direct practice and especially online training – providing online courses on the website: www.simcatvsa.com.
Sharing about the launched online training platform, Assoc. Prof. Dr. Cong Quyet Thang emphasized: "Not only in the context of the Covid-19 pandemic, but also at any stage, the SimCAT website is always a bridge to narrow the gap, give opportunities to access, continuously update knowledge and skills for doctors in all regions. "
SimCAT has received many positive feedback from trainees after the training sessions. Dr. Pham Trung Duc – Anesthesia and resuscitation Department of Quang Ninh Provincial General Hospital said that:
"By practice on a simulation model, we are allowed to make mistakes and correct them. This is the aspect that we cannot do in reality when dealing with patients. Thank you SimCAT for giving us this opportunity."
In the Conference, in addition to the scientific reports on Anesthesia, Resuscitation, Anesthesia and Pain Management and a separate topic for Nurses in charge of Anesthesia, the introduction of eGM software created a profound impression and spreads emotions to all delegates and doctors.
Talking about the idea of eGM development, Assoc. Prof. Dr. Cong Quyet Thang – Chairman of the Vietnam Society of Anesthesiologists said: "Stemming from the desire to build an advanced anesthesia and resuscitation sector, recognize its position in the world of medicine, the Vietnam Society of Anesthesiologists cooperated with Vietmedical – member of VMED Group to develop the electronic anesthesia record software. This is the first product in Vietnam to assist anesthesiologists for collection of accurate data and make timely decisions, contributing to the great progress of the anesthesia and resuscitation sector on par with developed countries. "
Anesthesia plays a decisive role in the success of surgery. Anesthesiologists not only put patients in a "mellow sleep", but also acts as "silent heroes" to bring patients a safe and convenient surgery by their talent and experience. This is also the statement of Assoc. Prof. Dr Luong Ngoc Khue – Director of Medical Examination and Treatment Management Department, Ministry of Health in the program about the great contribution of anesthesia and resuscitation doctors and the importance of safety in anesthesia.
eGM is the initial database for the diagnosis and prognosis of anesthesia session and the evidence to implement scientific study, support the training of anesthesia doctors and nurses. eGM uses optimal equipment under easy management, with complete, specific and detailed information fields to reduce administrative workload for anesthesiologists.
Speaking at the event, Mr. Ngo Thanh Son – Deputy General Director of VMED Group emphasized: "We studied eGM exclusively for the Vietnamese market, using the world's technology, Vietnamese language, operating specifications in accordance with the standards of the Ministry of Health and anesthesia procedures based on practical experience in clinical cases in Vietnam. EGM software with the advantages of Automatism – Accuracy – Efficiency is considered as a tribute from Vietmedical – VMED Group to the anesthesiologists. "
On behalf of the Vietnam Society of Anesthesiologists, Assoc. Prof. Dr. Doctor Cong Quyet Thang acknowledged and highly appreciated the contributions of Vietmedical – VMED Group as well as co-operators to bring many positive changes to the anesthesia and resuscitation sector, especially the investment and development of products and medical technology solutions, contributing to pushing up the process of health digital transformation.
For further information about SimCAT Center and training activities of the Vietnam Society of Anesthesiologists, please contact:
Address: No. 89 Luong Dinh Cua, Phuong Mai Ward, Dong Da District, Hanoi City
Tel: 024 3665 8528 – 024 8332 6699
Email: [email protected]
Website: https://www.simcatvsa.com/ "