This is a male patient in Khanh Son commune, Nam Dan district, Nghe An. Detecting the risk of myocardial infarction, the patient was referred to the provincial General Hospital for emergency. Doctors only appoint CT scan, do tests for diagnosis, clinical consultation. After 3 days of follow-up, the patient is discharged from the hospital, without intervention, drug treatment, re-examination once a month.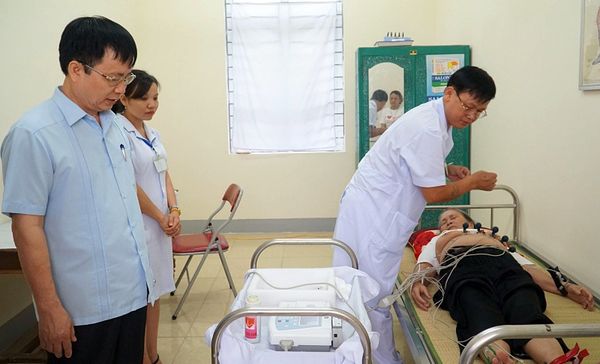 People in Nam Thai, Nam Dan, Nghe An communes were recorded electrocardiogram by remote ECG system Tele – ECG
The above case was shared by experts at the conference on Applying technology in diagnosing and predicting cardiovascular disease thanks to Tele-ECG remote electrocardiogram solution organized by Hanoi Medical University Hospital in the afternoon of 24 /9. The workshop was attended by doctors of satellite hospitals, Muong Khuong General Hospital (Lao Cai) – a new unit implementing this system.
This system consists of an electrocardiograph, a connection and sending data over 3G / 4G network and software system. It helps patients to take electrocardiogram measurements at Muong Khuong General Hospital (Lao Cai) but can be read, returned, consulted by cardiologists of the Heart Center, Hanoi Medical University Hospital. Thereby, detecting immediately cases at risk of myocardial infarction early. This result is due to the patient's ECG data has been uploaded to a website.
Associate Professor, Dr. Nguyen Lan Hieu, Director of Hanoi Medical University Hospital, said that among cardiovascular diseases, myocardial infarction is the most dangerous, the leading cause of death. The disease has a high incidence, the number of cases is increasing. With acute myocardial infarction, time is life. The sooner it is detected and intervened, the higher the survival rate of the patient.
According being research, from the time the patient exhibits angina or stroke down to the time of coronary intervention in less than 2 hours is the best time, the highest survival rate. However, statistics at the National Heart Institute (Hanoi) show that the sad reality is that only nearly 2% of myocardial infarction patients arrive early in the "golden period" above. The number of people who came to the hospital before 12 o'clock was about 40%. The rest is that the patient is too late, so many cases cannot be saved or leave serious sequelae.
Therefore, Associate Professor Hieu believes that this remote diagnostic technology will help to detect early cases of dangerous cardiovascular diseases, requiring early intervention such as myocardial infarction. In cases in remote areas where there are no specialists or doctors, only a technician with the help of upline specialists can detect patients with dangerous cardiovascular disease. 
"In addition, it can also help eliminate unnecessary cases on the long, hard, and costly upline. At the same time, it also helps to unify treatment methods between levels, minimize cases of incorrect diagnosis, and improve the qualifications of health workers ", shared by Assoc.Prof. Hieu.
Before that, in the first 6 months of the year, this system was piloted in six communes of Nam Dan district, Nghe An. Thereby discovered a number of abnormal cases, ischemia, atrial fibrillation, which need immediate intervention.