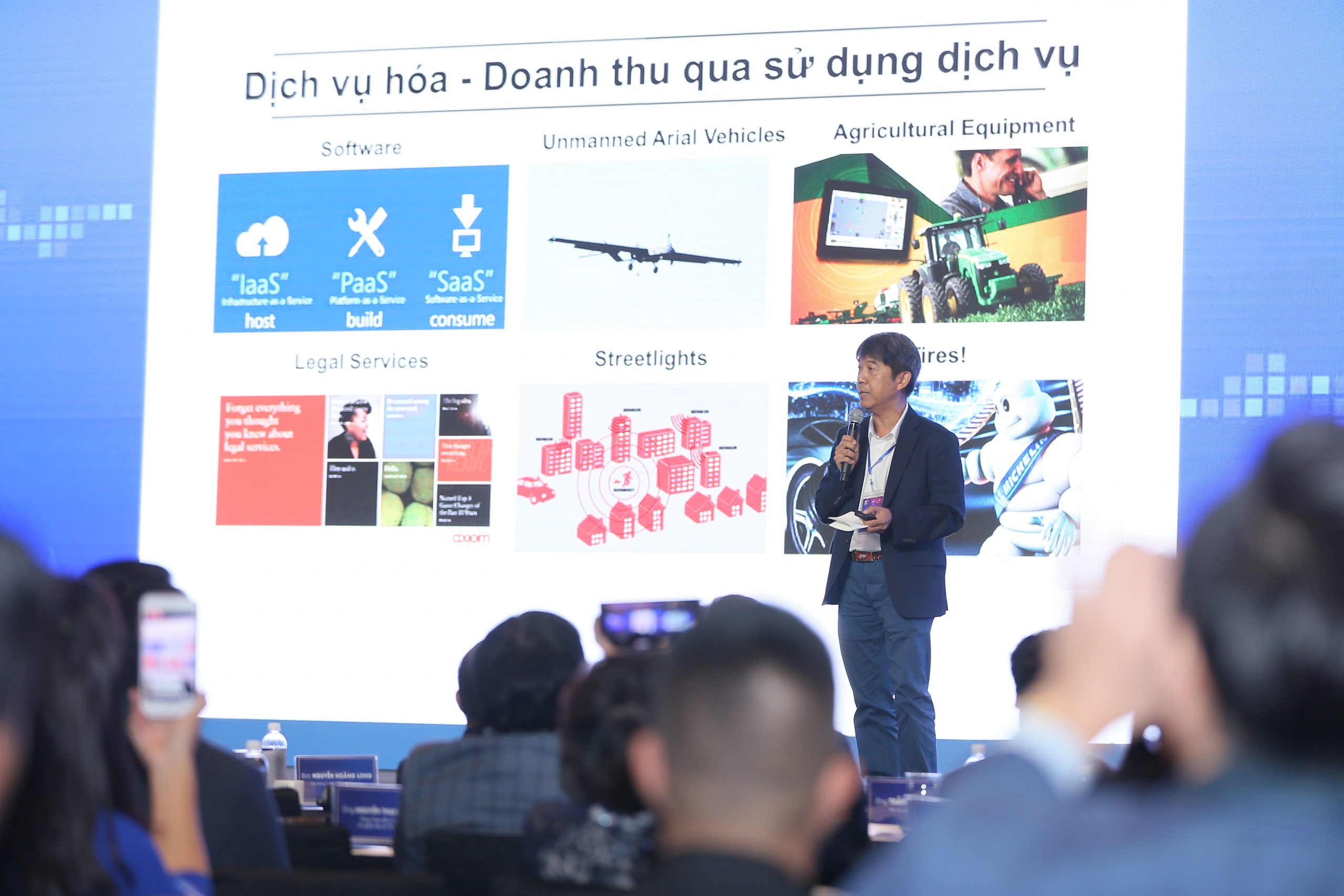 Mr. Nguyen Francis Tuan Anh, senior consultant on technology and solutions of VMED Group, talks about the topic "Journey to a digital future" at the ASEAN Young Entrepreneurs Carnival 2020
Mr. Nguyen Francis Tuan Anh, senior consultant on technology and solutions of VMED Group, talks about the topic "Journey to a digital future" at the ASEAN Young Entrepreneurs Carnival 2020
In 2020, as the Chairman of the ASEAN Young Entrepreneurs Council, the Vietnam Young Entrepreneurs Association decided to organize the ASEAN Young Entrepreneurs Carnival through the direct broadcast in Vietnam and online connection with the ASEAN Young Entrepreneurs Association. This year's ASEAN Young Entrepreneurs Carnival has a very special meaning, demonstrating the creativity of ASEAN young entrepreneurs for the target of realizing the Vision of a "Cohesive and Responsive" ASEAN – overcoming difficulties, maintaining and developing.
Understanding "Digital – Digital Transformation" and world trends
Speaking at the conference, Mr. Nguyen Francis Tuan Anh said: "A digital breakthrough is the application of digital technology to increase the values for customers by conversion of markets, products or channels". To do this, Mr. Nguyen Francis Tuan Anh gave three important factors: understanding customer views about digital breakthroughs, determining the financial resources for implementation and the ultimate goal of digital transformation is to increase value for customers. In addition, Mr. Tuan Anh showed three digital breakthrough models: breakthroughs of market, product and distribution channel.
Mr. Tuan Anh assessed that the market breakthrough has boomed over the years, including two types of markets: the asset-sharing economic model such as Airbnb, Homeaway, Zilok, Turo, etc and the worker-sharing economic model such as Grab, BE, Eatwith, Rover, Feastly, etc.
Regarding the product breakthrough through serviceization, this breakthrough occurs when companies use the internet to deliver content over software or to deliver content as a service. As such, software is the value of the product and the product becomes a service supply platform.
Regarding the distribution channel breakthrough, the business should eliminate middlemen or transform the channel structure to create better economy and superior customer experience. Specifically, it is necessary to eliminate middlemen with low added value; use logistics as a competitive advantage; and especially use customer data as a competitive advantage.
How should businesses operating in the health sector implement digital transformation?
It can be clearly seen that the digital breakthrough is forcing businesses to transform digitally by application of digital technologies into the company's operations and interaction with customers to improve performance, create the superior customer experience and design innovative business models.
As a senior advisor on technology and solutions, Mr. Tuan Anh has co-operated with VMED Group in the digital transformation at businesses as well as community activities in the healthcare technology. Digital transformation in the healthcare technology has many difficulties and challenges due to the requirements of in-depth knowledge, difficulties in access and change of user habits. However, this is also a potential market when Vietnam's healthcare infrastructure has been incomplete and under shortage of technological elements in management, medical examination and treatment.
VMED Group pioneers digital transformation through high-tech products, solutions and connection activities in the startup community.
In addition to providing the market with hi-tech products and solutions according to international standards and in line with characteristics and needs of the Vietnamese market, VMED Group is a pioneer in the startup connection in the healthcare technology. Attending Techfest Vietnam 2020, as the Chief of Medtech Village, VMED Group has successfully completed the task of orientation, consultation and maximum support for teams.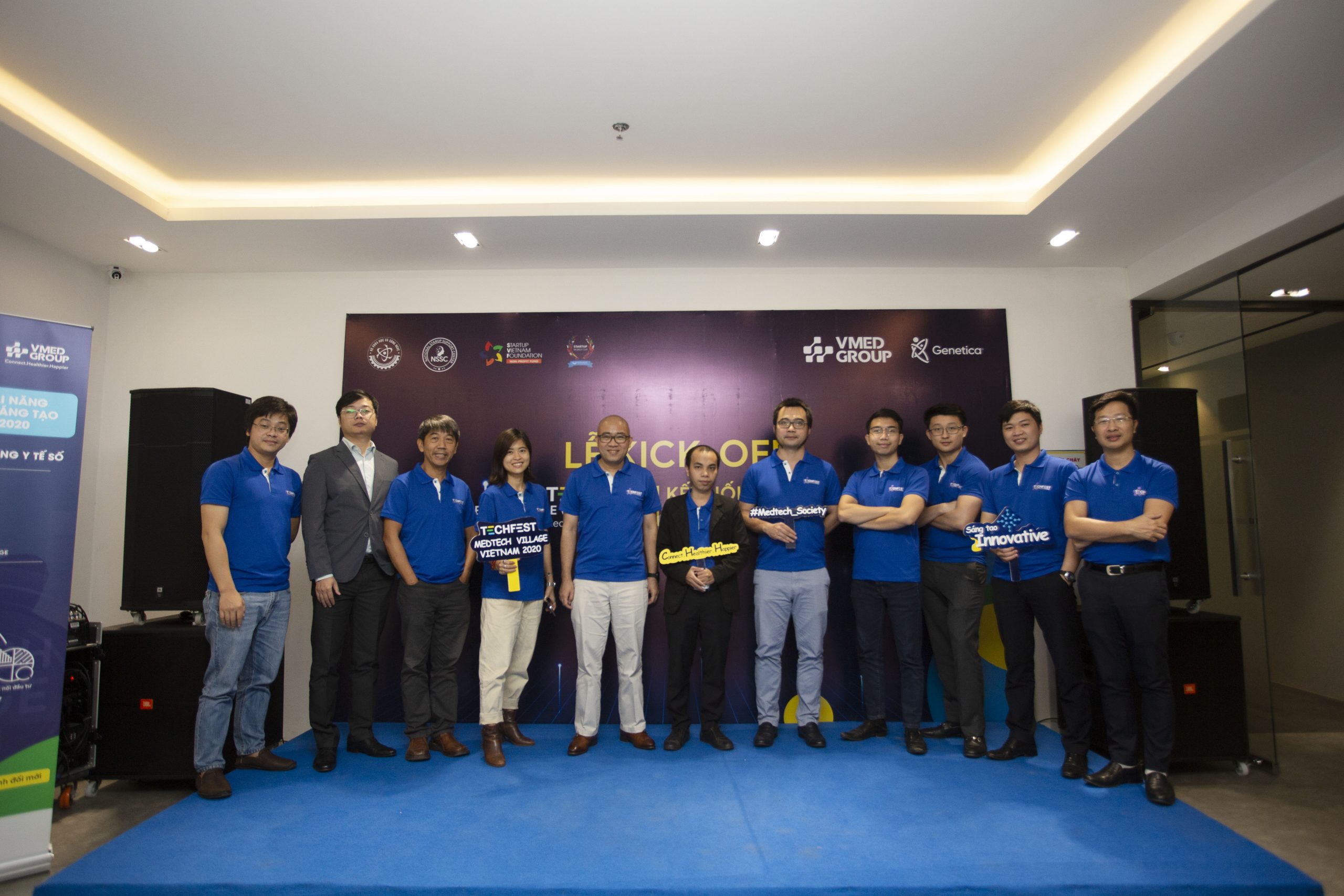 Kick off ceremony for connection of teams of Techfest Vietnam 2020 Medtech village was organized at the office of the Head of Medtech village – VMED Group.
In particular, in the framework of the Techfest Vietnam 2020, VMED Group introduced to the startup community two community platforms named Scale Vietnam and Medtech Tribe developed to become a bridge, bringing Vietnam healthcare intelligence to the world. Scale Vietnam and Medtech Tribe are established with the desire to create a community that connects financial resources, development partners, shares knowledge from leading experts in the healthcare sector and create an ecosystem with innovation, sustainable development according to the digital transformation trend. Medtech Tribe functions to organize seminars and conference on orientation and expertise in the Medtech field to startups (Members of Medtech Tribe). On this basis, Medtech Tribe selects excellent agents and continues to provide intensive support at the "Incubation of Healthcare IT startups – Scale Vietnam". Scale Vietnam continues to build up and connect a vibrant startup community – an environment for startups to get direct access to domestic and international investors, professionals and the Government. Furthermore, Scale Vietnam provides a space for members to work together – study and cooperate, create the lasting collective values.
Mr. Nguyen Francis Tuan Anh, senior consultant on technology and solutions of VMED Group shared about Scale Vietnam and Medtech Tribe in the framework of Techfest Vietnam 2020
Mr. Ngo Thanh Son (second from left) – Deputy General Director of VMED Group attended the Southeast Asia Techfest Vietnam 2020
It can be clearly seen that digital transformation is the inevitable choice of every Vietnamese enterprises on the path of integration. However, like a long-distance competition, there is only one finish line, however, there are multi-tracks. To become the first comer, in addition to their own efforts, young enterprises should choose wise strategies, listen and connect with investors, become a "key" agent in a strong community, nurture and gradually realize the dream of" reaching out to the big sea"./."