Medtech Village with a number of activities during Techfest Vietnam 2020 has created connectivity and opportunities for startups to develop, contributing to digital transformation to revolutionise healthcare.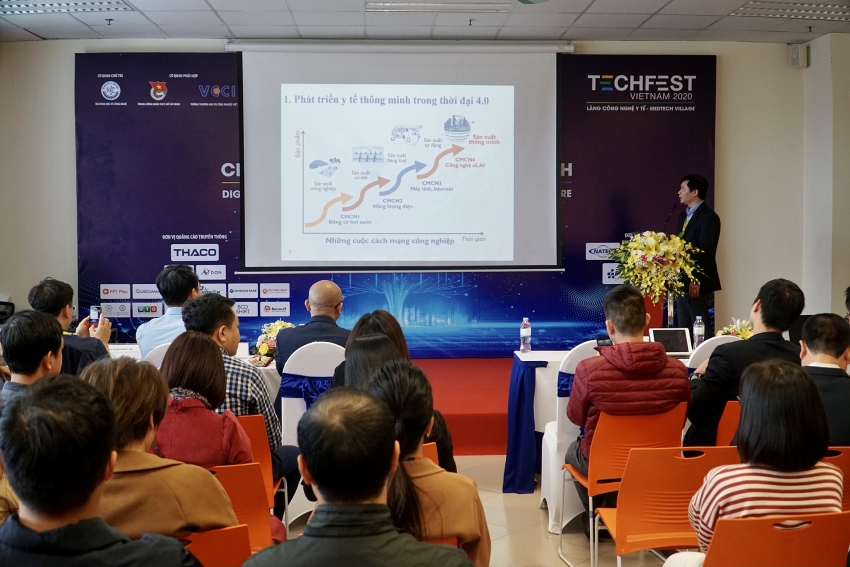 Medtech Village's seminar took place on November 28
Especially, the Novembeer 28 seminar with the participation of leading experts in the field of medical technology in Vietnam and the world, as representatives from the Ministry of Health, organisations, heads of leading businesses, and startups (the highlight of the event) bringing values and lessons for all participants.
The seminar focused discussions on digital transformation trends, demands, and visions about digital transformation from hospitals, thus looking for solutions to tap into the huge potential, and to spur the process in the coming time.
Ngo Thanh Son, deputy general director of VMED Group, who is also head of Medtech Village, said, "Despite a number of challenges and difficulties, Vietnam's medical tech market is very promising. Healthcare infrastructure is not much developed and there is a marked lack of technology for management, operation, and administration and diagnosis and treatment activities."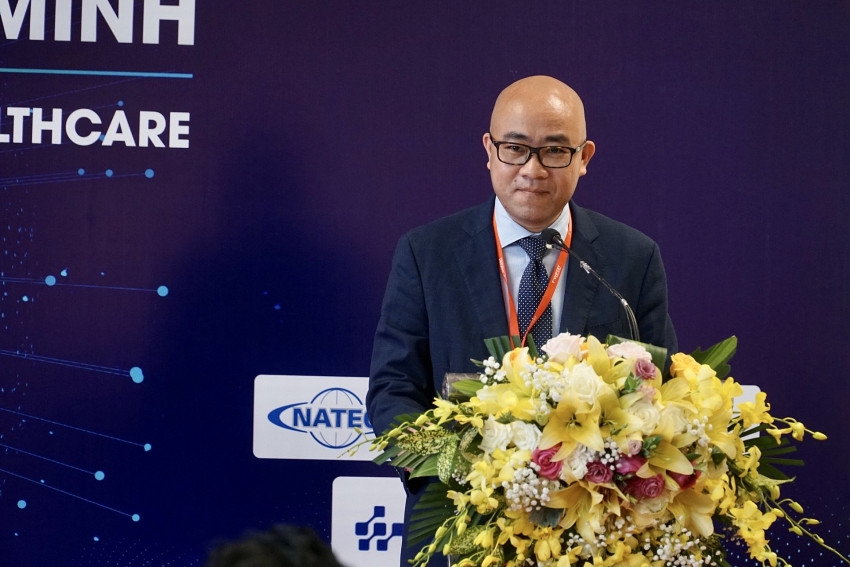 Ngo Thanh Son, deputy general director of VMED Group and head of Medtech Village, made the opening remarks at the seminar
"As the head of Medtech Village, we are striving to bring the medical sector closer to technology. We and startups will together analyse and solve the problems in an appropriate and effective manner," Son noted.
Addressing the event, Pham Hong Quat, head of National Agency for Technology Entrepreneurship and Commercialization Development under the Ministry of Science and Technology, noted that, "COVID-19 helped us realise that Vietnamese people have excellent brains, innovation, and great unity. Especially in the medical sector, technology has contributed significantly to the success in the pandemic control."
"With such a seminar and the associated contest, VMED Group and Genetica – the leaders of Medtech Village create new ways and opportunities for startups and others to go ahead."
Nguyen Truong Nam, deputy head of the Information Technology Department, Ministry of Health (MoH), emphasised that healthcare is one of the eight sectors that the government is giving priority to in digital transformation.
"The MoH is willing to cooperate and connect with businesses and startups to bring more advanced technology to the sector so as to improve the quality of diagnosis and treatment."
As part of the seminar, international experts virtually shared lessons about digital transformation in the medical sector. Duong Anh Quang, representative from Google Health, said that the application of Google Health's AI solutions in India and Thailand's medical sectors shows that AI could help the medical sector deal with a number of hard problems. However, besides knowledge and financial capacity, successful applocation requires intensive studies about the market and practical experience."
Talking about digital transformation at hospitals in Japan, Ominext Group shared valuable lessons for Vietnamese healthcare facilities. Ominext Group was involved in the digital transformation of 5,000 health facilities and 3,000 drug stores in Japan. Tran Quoc Dung, CEO of Ominext Group, stressed that there are some important issues that hospitals should pay attention to during the process: digital strategy, digital transformation plan; trained consulting team; specialisation in each part; and communications, and others.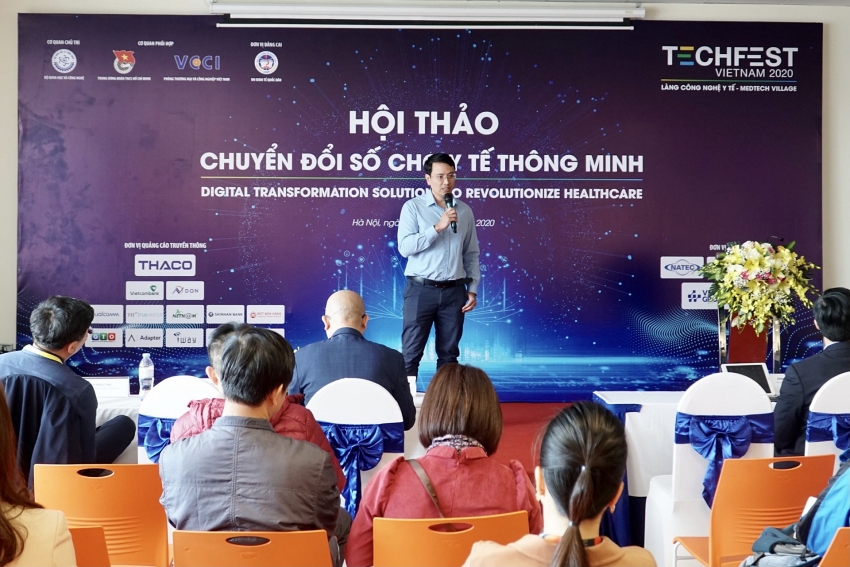 Cao Anh Tuan, CEO of Genetica
Regarding real stories from startups, Cao Anh Tuan, CEO of Genetica, said that in the digital era, it is necessary to focus on the products that users and the market are looking for. For startups, money is not the most important factor. Experience from senior advisors is also necessary.
Techfest 2020 wrapped up, Medtech Village made a mark with MedON being named in the top 10. MedON represented startups of Medtech Village at the Techfest 2020 contest.
Digital transformation in the healthcare sector is an inevitable trend which is expected to make great changes in administration, diagnosis, and treatment quality, thus further improving healthcare services for all.
As the head of Medtech Village, VMED Group plans to make more moves to increase connectivity, cooperation, and the power of the five parties: schools – the state – scientists – businesses – community to fuel the sector's digital transformation journey and creat a sustainable innovative ecosystem in the digital age.
By Bich Thuy
Source: Vietnam Investment Review