Accompanying the development and addressing the challenges of the healthcare sector, VMED Group is pioneering innovative medical solutions to drive healthcare transformation and improve treatment quality and efficacy.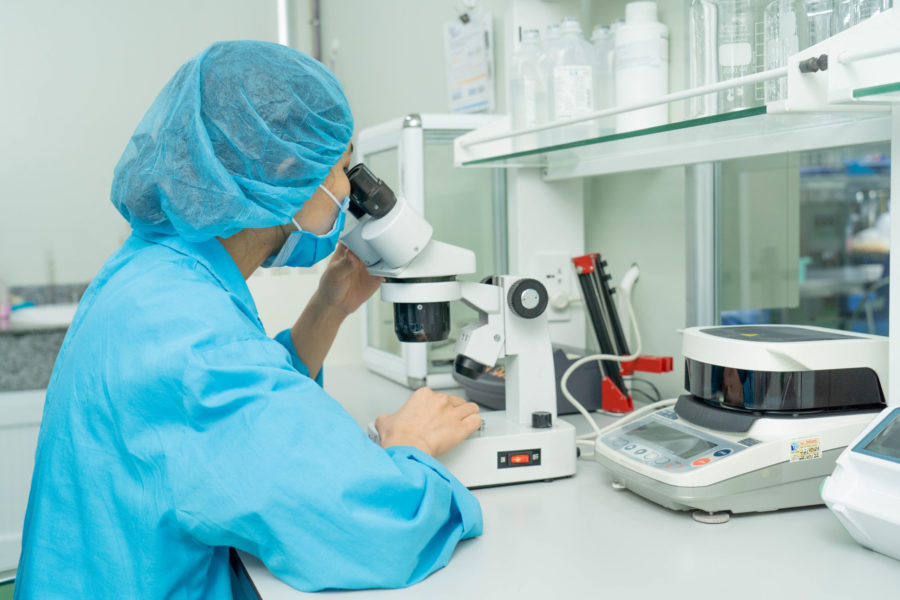 VMED Group – Medtech for the new normal
Experiencing the negative impacts of COVID-19, Vietnam's healthcare sector has been accelerating remarkable transformation, benefiting all stakeholders.
At present, 100 per cent of hospitals nationwide deploy IT in hospital management while personal health records are being compiled into databases for smart preventive treatment and management.
Telemedicine and the Internet of Things are also widely applied, along with AI, robotics, and blockchain in all treatment fields.
The pandemic also strengthened pharmaceutical and medical equipment manufacturing. Many high-tech medical solutions like software to read test results, new surgical masks with intelligent fabric for pandemic prevention, high flow oxygen generators, and ventilators, debuted in the market.
Medtech businesses have made great contributions to all this, with VMED Group among the pioneers.
A pioneer in innovation
The pandemic has created new trends of diagnosis and treatment, and spurred a high-tech-driven development trend among medtech businesses in Vietnam and Southeast Asia. They have introduced new solutions and digital platforms where no direct contact is required, helping doctors connect with patients in new ways.
VMED Group is a pioneer of innovative comprehensive medical solutions, now focusing on four major areas: medical IT solutions, manufacturing and distributing medical supplies and equipment, as well as investing in the healthcare sector.
Pham Quang Huy, chairman of VMED Group, shared, "During the fourth wave of the pandemic, we made great efforts to bring to Vietnam medical devices that can be used in COVID-19 prevention and treatment such as ventilators and monitors, and developed telemedicine solutions to reduce death rates and improve the healthcare service quality and people's lives."
"VMED Group commits to a healthier and happier community and continues developing the best possible medical solutions including modern medical devices, high-quality medical consumables, and best-in-class medtech solutions to create a comprehensive smart healthcare ecosystem," he added.
Some outstanding medical solutions of VMED Group include Hospital Information System; CLAS Healthcare Electronic Medical Records; Picture Archiving and Communication System; and a telemedicine system for remote examination and treatment, for example. Moreover, the company's tele-ICU connects Bach Mai Hospital with Yen Bai Hospital and Hung Vuong General Hospital, ensuring uninterrupted treatment for patients, especially in the COVID-19 landscape.
In medical equipment distribution, with an extensive logistics network and professional engineers, the group supplies comprehensive and smart solutions for intensive care, and wards of resuscitation, anaesthesia and recovery, as well as surgery.
Especially, in the wake of the country's policies to increase the localisation of medical supplies, VMED Group has been investing in developing and modernising its manufacturing factories with a strict quality monitoring process. With a vision of sustainable development, the group has focused on research and development to create "Made in Vietnam" products meeting international standards such as auto disable syringes and in vitro diagnostic (IVD) products.
Realising the aspiration
Despite its growth potential, Vietnam's medtech market is still beset by a lack of knowledge and accessibility, outdated habits and incomplete medical infrastructure.
Assoc. Prof., Dr. Luong Ngoc Khue, Head of the Ministry of Health's Department of Medical Examination and Treatment, said the telehealth master plan and electronic medical records are important initiatives to accelerate the sector's digital transformation. The two targets are ensuring professional support for all health facilities, especially district-level ones, and ensuring universal access to regular healthcare.
Medtech businesses play an important role in these goals. To adapt to and develop in the post-COVID-19 landscape, VMED Group has adjusted its development strategy to focus on the connectivity of resources, technologies, and experts.
The group collaborated with senior experts and professional partners to improve medical training in Vietnam. VMED Group has supported the establishment of the Simulation and Continuing Anethesia Training Center with advanced medical devices and many professional training activities.
In addition, the group connects medtech startups with mentors and investment funds, helping them develop solutions to present daily health issues to build healthier and happier communities.
The group cooperated with Hanoi University of Science and Technology to research and produce BKVM-HF1 high-flow oxygen machines which were licensed by the Ministry of Health for circulation in June 2021. Hundreds of BKVM-HF1 units are now used to treat COVID-19 patients.
"We plan to build manufacturing factories and trading units overseas to boost our international presence, putting Vietnam on the global medical map," Huy added.
By Minh Anh/ Vietnam Investment Review